Fiberglass Acoustic Panel White Sound Absorption Board
Our fiberglass acoustic panel is made from non-asbestos glass fiber sound-absorbing board as the substrate, the surface is compound sprayed glass fiber decorative felt. With good sound-absorbing effect, good insulation properties, flame retardant properties, high strength, good decorative effect, etc., it can improve the building's acoustic environment and improve people's work and quality of life.
Fiberglass Acoustic Panels Specifications
Material: Baking compound high-density fiberglass wool
Color: white, black and others to order
Fire: Class A level
NRC: 0.9-1.0, excellent sound absorption
Heat resistance: ≥ 0.4 (m2.k / m)
Humidity: 95% dimensional stability of RH at 40 °C. No drooping, wrapping or delamination
Moisture content: ≤1%
Environmental effects: Tiles and fillers are completely recyclable
Certificate: SGS, ISO9001: 2008, CE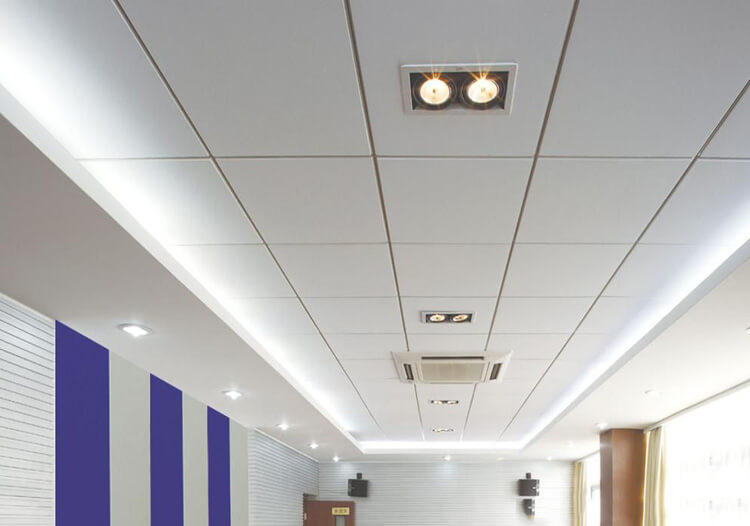 Acoustic Fiberglass Panels Finishes:
1. Special Coated Decorative Fiberglass Paper – Glass Ceilings / E-Glass Ceilings
2. With a special decorative fabric – decorative glass fiber fabric acoustic panel
3. Magnesium oxide board – reinforced glass fiber ceiling
Installation
Fiberglass panel acoustic board is usually can be easily installed on ceiling.
As fiberglass acoustic panel consists of combustible rock fibers, the sound absorbing panel substrate and decorative surfaces have reached A-class fire performance, tested by the state authority.
Fiberglass acoustic panel has excellent sound-absorbing effect, you can choose a variety of different surface patterns. Fiberglass acoustic board is widely used in school, hospitals, stadiums, hotels, restaurants, shopping malls, studios, conference rooms, entertainment venues and so on.