Fabric Suspended Ceiling Acoustic Absorber Aluminum Baffle Ceiling
The fabric suspended ceiling is an excellent solution for sound and noise control in large rooms such as stadium or gymnasium. Made of aluminum and glass wool, the aluminum baffle ceiling or sound absorber has a Class A fire rating. Depending on your requirements, there are different shapes such as cuboid and cylinder acoustic absorber. Different installation direction of fabric suspended ceiling also result in different names: fabric ceiling cloud and fabric ceiling baffle.
In addition to gymnasiums, aluminum suspended ceiling is used in many different types of rooms: restaurants, auditoriums, conference rooms, churches and so on.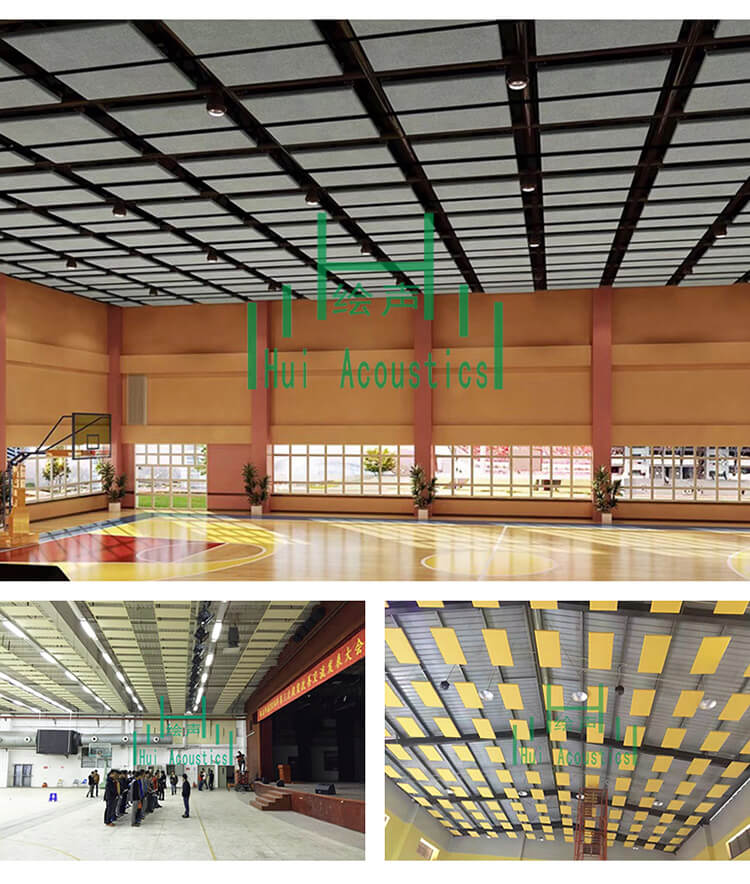 Fabric Suspended Ceiling Specifications
1. Structure: core material, surface and frame.
2. Material: glass wool, melamine foam and so on
3. Front finish: fireproof ceiling panel fabric
4. Back finish: frame retardant fabric
5. Frame: aluminum
6. Standard size: 600 * 600, 1200 * 600 mm
7. Thickness: 100mm, 50mm
8. Standard edge type: square angle fabric ceiling
9. Acoustic principle: Porous absorption
10. Flame retardant: fireproof.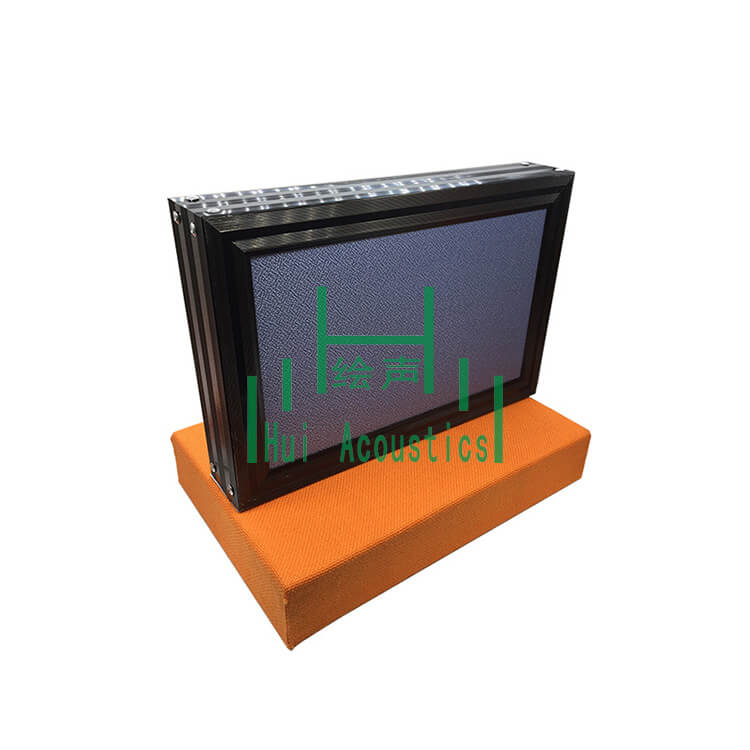 Sound absorption is usually defined in terms of the absorption coefficient and is defined as the ratio of the absorption to the incident sound energy from a single interaction between the acoustic wave and a certain material.
The absorption coefficient ranges from 0 to 1, and varies with frequency. The absorption coefficients of 0 and 1 are ideal values because all the materials reflect and absorb some sounds and therefore do not exist in reality. Suspended fabric aluminum acoustic panels have the highest NRC of all acoustic materials.
Application
Aslo a typical type of aluminium acoustic panels, aluminum frame fabric suspended ceiling is widely used in sports centers such as gymnasiums, indoor stadium, sports hall, indoor swimming pool, badminton room, rehearsal hall and other places need acoustic solutions.