Fabric Art Acoustic Panels Fabric Wrapped Acoustic Art Board
Fabric Art Acoustic Panels Specifications
1. Structure: core material, surface and frame.
2. Material: glass wool, polyester wool, melamine foam and so on
3. Fabric: fabric
4. Complete: thin fabric or 3mm MDF
5. Frame: MDF, aluminum, resin and so on
6. Standard size: 600 * 600mm, 1200 * 600 mm
7. Thickness: 25mm, 50mm
8. Standard edge type: bevel, square angle
9. Acoustic principle: Porous absorption
10. Flame retardant: flame retardant or non flame retardant.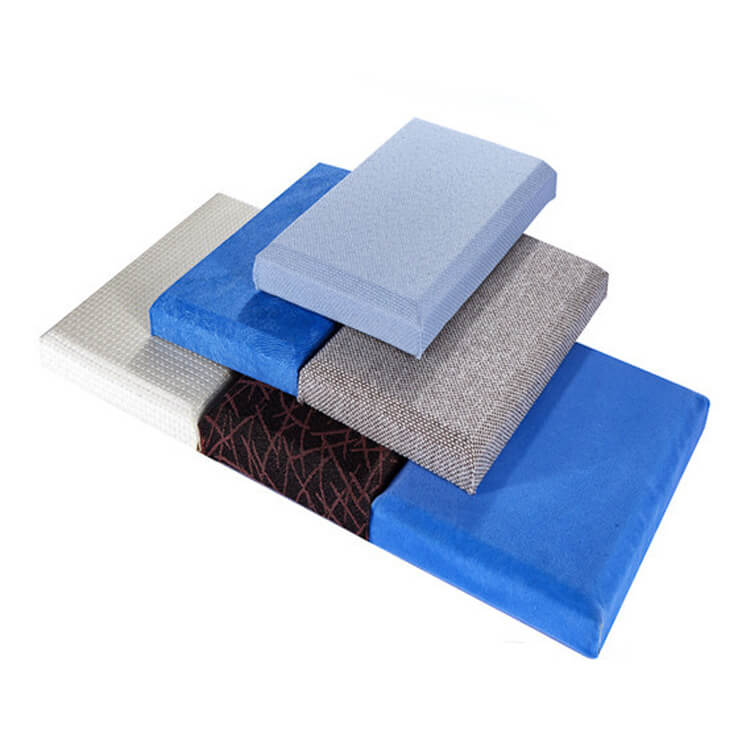 Fabric Art Acoustic Panels
The fabric acoustic panels art boards are the aesthetic solution to your reverberation noise problem. These panels are also known as soundproof wall panels or sound clouds, usually 25mm or 50mm thick, square or resin hardened edges and wrapped with flame retardant fabric. These acoustic art panels are mechanically hung on walls, increasing the overall decoration of the room.
Using the latest computer-aided design equipment, software and technology, the fabric acoustical panel can be produced from any high quality image, including photographs, digital images, art or graphics. Our art acoustic panel systems combine high-resolution imaging, a variety of fabrics and excellent acoustic performance into one system. They can reduce echo and reverb, while providing elegant aesthetic design for any application. These panels are constructed using a harden frame system with acoustic cores and wrapped with standard panel fabrics or printed images.
Art Acoustic Panel Feature:
1. Good acoustic performance
2. Easy to install
3. Various colors and patterns
Application
Fabric art acoustic panels are widely used in dance halls, karaoke rooms, hotels, home theater, conference rooms, bowling alley, gymnasium, theater, rehearsal hall and other places that need acoustic solutions.