Wood Ceiling MDF Acoustic Panels For Ceiling Acoustic Panel Ceiling
The pattern of our wood ceiling panels is determined by the diameter of holes and the distance between each two holes. For example, the pattern ceiling wood panels 16-16-6 indicates that the distance between each two holes is 16mm and the diameter of holes is 6 mm.
Ceiling Acoustic Panel Specifications
1.Structure: Basic Material, Finish & Back Finish
2.Basic Material: E1 MDF, FR MDF ceiling wood
3.Front Finish: Melamine or wood veneer ceiling panels
4.Back Finish: Black Acoustic Felt
5.Standard Size: 600x600mm, 600x1200mm etc.
6.Standard Thickness: 12 / 15 / 18 mm acoustic panels for ceiling
7.Standard Pattern: 16-16, 32-32, 8-8
8.Fire rate: Acoustic ceiling board can meet China Standard Class B1 and BS476 Part 7 Class 1
9.Eco Level: Acoustic panel ceiling can meet China and EU Standard Class E1
Our perforated acoustic board ceiling consists of three layers: the substrate, the front and the back. We use MDF as a substrate, laminated with melamine or natural wood veneer on the front surface. A series of round holes are perforated on the slotlted wood panels and a layer of black fleece is pasted on the back of the substrate.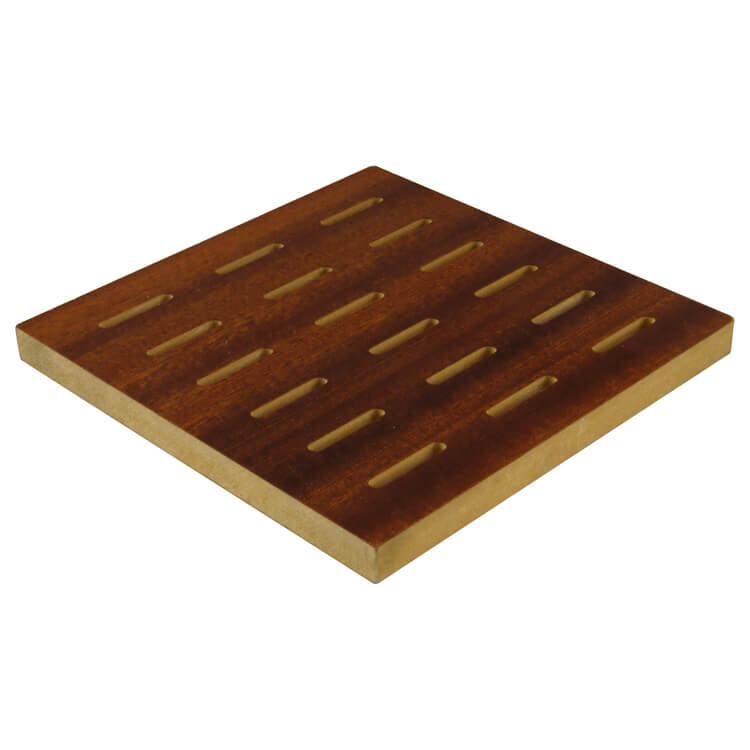 Our MDF artifical wood ceiling panel has excellent sound-absorbing performance, especially in absorbing low frequency and medium frequency sound. So far, our wood ceiling has been sold throughout the country and exported to Southeast Asia, Europe, America and so on.
They are widely used in the following four types of projects as ceilings:
* Places that require high-quality sound effects, such as studios, recording studio, listening room, rehearsal room;
* Theater, cinema, indoor gymnasium, dance halls, KTV rooms and other public places of entertainment
* Places where keeping secret or quiet is needed, such as conference rooms, offices, halls, hotels and so on.
* Places where noise control is required, such as airports, railways, public stations, factories, workshops and so on.
Installation System
(1)Lightweight steel keel system
(2)Wood batten system