Fiberglass Acoustic Ceiling 600 x 600 x 15 mm
Fiberglass acoustic ceiling is made of high-density fiberglass wool, with texutred tissue finish the glass-fiber plain paper back and painted edges. They are widely used in hospitals, conference rooms, exhibition halls, cinemas, libraries, studios, stadiums, voice classrooms, shopping and many other indoor spaces.
Acoustic Fiberglass Ceiling Feature
1) Sound Absorption
The NRC of fiberglass acoustical ceiling can reach 0.9-1.0.
2) Insulation
Prevent indoor and outdoor heat transmission. Fiberglass ceiling can save energy and also create a quiet, comfortable environment.
3) Fire-resistant
As fiberglass consists of combustible rock fibers, fiberglass ceiling panel substrate and decorative surfaces have reached A-class fire resistant performance, tested by the China authority.
4) Humidity
The dimensions of acoustic fiberglass ceilings are stable at high humidity and they do not sag, bend or delaminate compared to the mineral wool sound-absorbing panels made with conventional wet processes.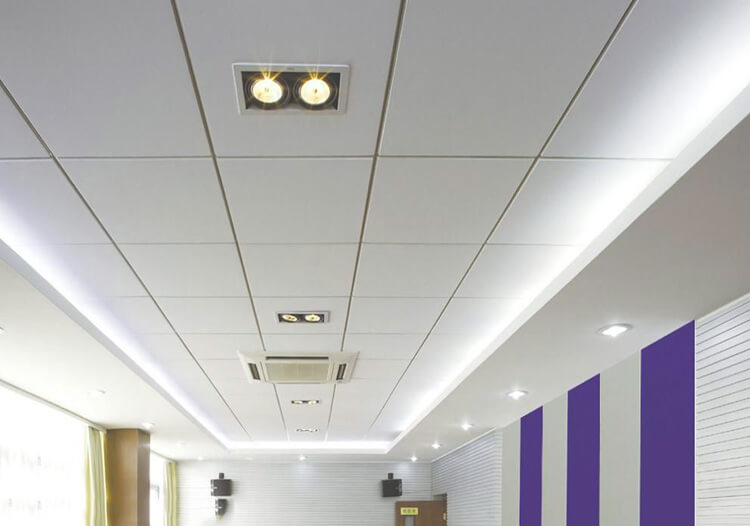 5) Easy to Clean
The special coating on the panel allows fiberglass ceiling board to be used for long periods of time with little absorption of dust or vacuum. You can clean the face with wet or dry mops.
6) Environment
Sound absorption fiberglass ceiling tile is mildew, pollution-resistant, non-polluting. It is a new type of green and healthy building material. Fully recyclable.
7) Elegant
Standard quiet white face, personalized design will give you a stylish and comfortable visual experience. Various other colors of fiber glass acoustic ceilings are also available.
8) Light Reflection
LR of fiberglass acoustic panel can reach 0.86.
9) Safe and Convenient
Installation of fiberglass ceiling does not require any special protection. The work site is still clean and tidy with no fiber shedding. Either exposed or hidden grids can be used for installation. Due to its light weight, fiberglass acoustic ceiling tiles are widely used in large buildings such as big offices, exhibition halls, shopping malls and is easy to trim and install.