Sliding Partition Wall Sliding Doors Decorative Interior Room Divider Wall Partitions
The sliding partition wall is a high quality mobile wall system that allows you to optimize the use of space in a speed and easy way. A sliding doors interior room divider panel with two rollers can be stacked in various positions. A panel with a single roll can be parked on one or both sides of the opening. Since fiberglass is used as acoustic core, it's also called fiberglass decorative room divider.
Operating
The hinged sliding room divider panel is pulled from its parking position to "close" (or extend) the wall and push it back to the parking position to open (or fold) the movable partition. A lever handle is mounted on the lead space divider panel and is combined with the vertical fold profile to provide the door for the system.
Pattern 80 Sliding Commercial Room Dividers Specification
Width: Each sliding partition panel is 600mm-1200mm.
Height: 2000mm-7000mm.
Acoustic Performance: 40dB
Track: Aluminum
Rollers: Single roll or double rolls
Sliding Dividers Frame: aluminum frame
Frame Finishes: Satin anodized aluminum components are possible in a wide range of color standards.
Top and bottleneck: Top and bottom pressure retractable seals ensure easy movement and locking.
Room divider stacking: Many panel stack options are available for complete flexible.
Panel face: MDF, plywood, woven fabrics, leather, natural wood veneer, melamine, magnetic room divider, etc.
Panel suspension: Overhead hanging system does not require floor rails.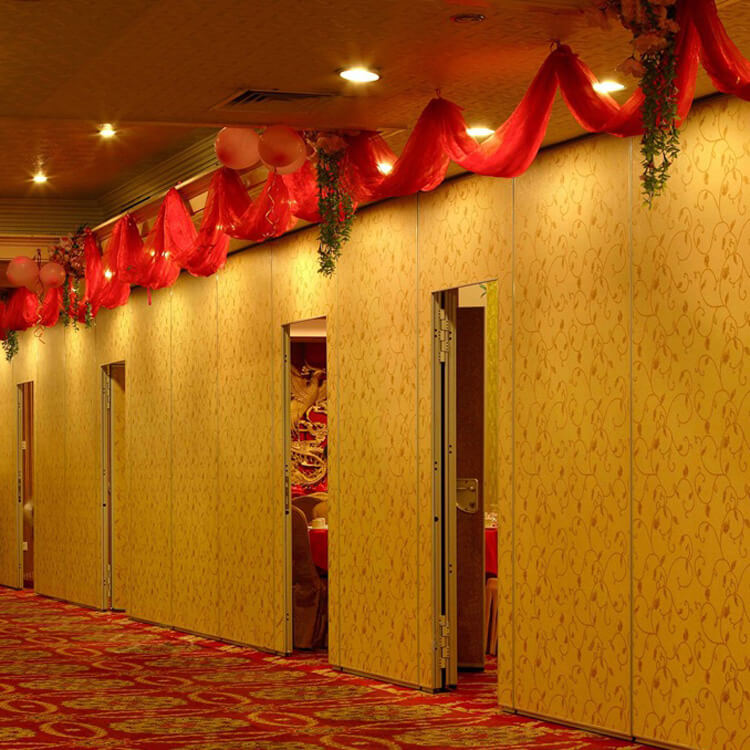 Sliding Wall Partitions – How to Work
Telescopic pressure seals
Once the partition wall sliding door panel is positioned, it can be sealed on a compressible pressure seal.
We are easy to lock sets.
The top and bottom telescopic pressure seals extend and retract from a single 180 ° rotatable handle.
Telescopic sleeve.
The final closure of the sliding partition panels wall is achieved by extending the telescopic sleeve on the last panel. The strip extends both the top and the bottom. The rubber seal on the side of the retractable sliding door partitions panel can seal the walls to achieve acoustic integrity.