Operable Partition Wall Panel Design Decorative Removable Partition Door
The floor to ceiling operable partition wall consist of a series of interlocking panel and a quick set of foldable top and bottom seals. As soundproof wall partition materials, STC 32 to 53 is reached in the laboratory environment. A wide range of finish options for removable wall partitions are available: melamine faced MDF or particle board, fabric, carpet, leather, veneer, high pressure laminate, deck, acoustic board, white board. The operable wall panels can also supplied unfinished for site decoration.
Pattern 65 Operable Partition Wall
Material: MDF, glass fiber, aluminum sound
Surface treatment: veneer, melamine
Coefficient: 30-60db
Width: 800-1230mm
Height 2000-4200mm
Color: multi-color design decorative partition wall
Fireproof: Yes
Environment: E1 level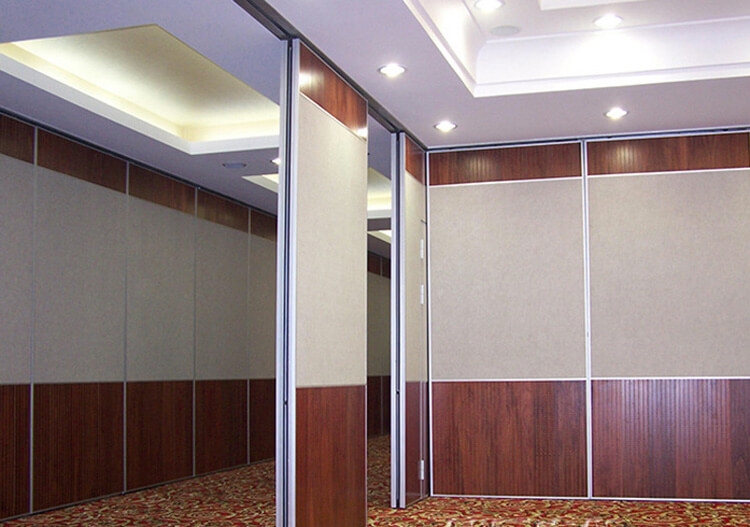 Office / Library Soundproof Baffle Folding Features:
1> No track is required on the floor. Soundproof room divider does not affect the whole style of decoration.
2> Operable partition has soundproofing and heat insulation function. It can quickly and easily separate the space.
3> Portable partition wall is hanging on the aluminum alloy rails by multi-directional wheels.
4> The room partition wall panel is made of aluminum frame, high quality sound insulation cotton and finishing board.
5> Different finishes are available to meet the different requirements of customers.
6> There are soundproof rubber around each partition door piece, which help isolate the sound.
7> We can add a single door or double doors to the hall partition.
Removable partition has been widely used in hotels, banquet hall, office buildings, multi-purpose hall, conference rooms, exhibition hall, financing institutions, hospitals, factories and other occasions.