Wood Wool Acoustic Panel Anti Sound Absorbing Panels Wood Fiber Mineralized Panel
Wood wool acoustic panel is made of wood fiber and mineral which are treated by high pressure and high temperature, with unlimited cavity inside the panel. Before form pressing, wood-wool has already been permeated with cement a mineral substance, which protect the wood wool to keep the panel complete natural and result in many excellent properties.
Wood Fiber Acoustic Panels Specification
Main Material Wood fiber and mineral
Surface Wood wool (thick or thin)
COLORS Many colors of wood fiber mineralized panel can be chosen or based on customer's requirements
Thickness 15mm, 20mm, 25mm or based on the customer's requirements
SIZES 600*600mm, 1200*1200mm, 2440*2440mm or based on customer's kindly request
INSTALLATION Fix the sound-absorbing panels on the keel or suspend the wood wool sound absorbing panel on ceiling grid
Package Suggest to use wooden pallet for delivery
NRC The sound insulation effect can reach to NRC 0.9 if using the right installation.
APPLICATIONS Can be used as waterproof acoustic panels.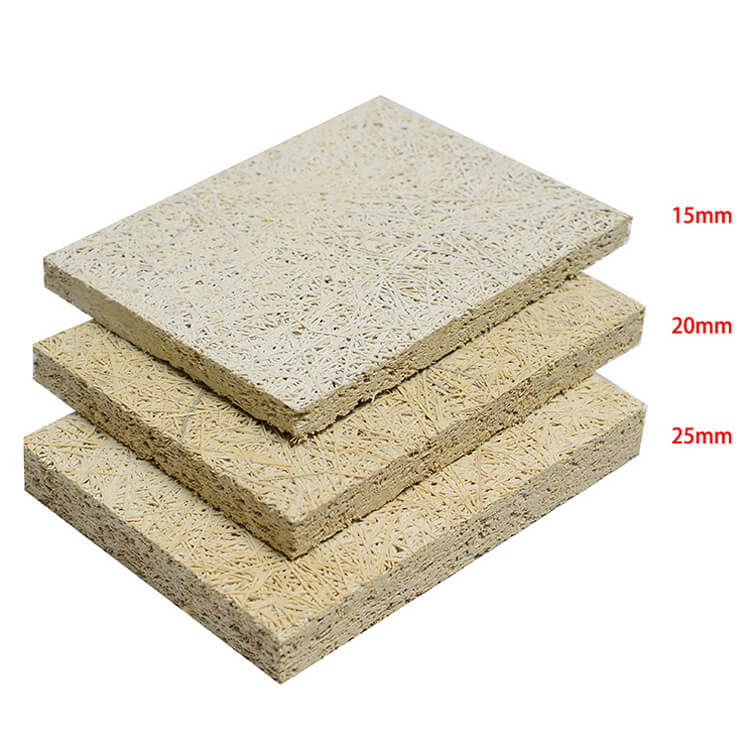 Wood Wool Panel Application:
(1) Home application (wall soundproofing, ceiling sound insulation, pipe soundproofing)
(2) Entertainment application: KTV, hotel, bar, night club, disco, cinema cheap sound panels
(3) Workplace application: office building, meeting room, office room, studio, recording room.
(4) Industrial place application: air conditioning facilities, air compressor room, pumping station, manufacture workshop.
(5) Other projects: home theater, piano room, audio room, conference room, gymnasium, hotel lobby and other function rooms
Wood Wool Acoustic Panel Features:
1. Made of wood wool cemet board
2. Visually pleasing
3. Thermal insulation
4. Heat preservation
5. Environment protection
6. Decorative anti sound panel
7. No formaldehyde
8. Easy to install