Floor To Ceiling Room Dividers Acoustic Partition Movable Divider For Rooms
Product Description
The floor to ceiling room dividers are a series of independently operated partition divider panel designed along the track system to achieve maximum spatial planning flexibility. Ceiling mount room dividers can be arranged quickly, easily and efficiently. Fabric finish floor to ceiling decorative room divider is available in three thicknesses: 65, 80, 100mm.
Fabric Finish Dividers for Rooms Feature:
1. Large selection of standard finish treatment.
2. It can quickly and easily separate the space.
3. Retractable top and bottom seals allow easy movement.
4. Quick divide by simple pull / latch operation.
5. No floor track is needed for movable dividers for rooms.
6. Tight vertical seal prevents sound leakage and helps align the panel during installation.
7. Floor to ceiling room dividers are a modern decorative style with noise insulation, heat insulation, and fireproofing function.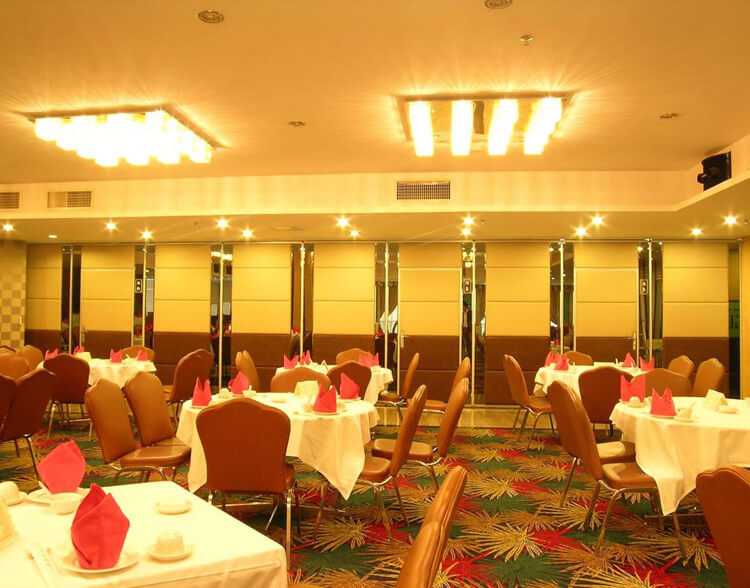 Acoustic Partition Project Cases
Floor to ceiling office partitions are made of high-quality anodized aluminum frame and environmentally friendly composite panels that move on ceiling tracks and do not require floor rails. The standard thickness of the panel is 65mm, 80mm and 100mm and the width is up to 1219mm. The maximum height is up to 17 meters high.
The ceiling mount sliding folding partition wall consists of a series of interlocking panel and a quick set of foldable top and bottom seals. STC 32 to 53 is reached in the laboratory environment. Its excellent performance in sound insulation and the easy operation make it ideal for restaurants, schools, offices, religions, hospitals, shopping malls and many other indoor applications.
A wide range of finish options are available for floor to ceiling partition: melamine faced MDF or particle board, fabric, carpet, leather, veneer, high pressure laminate, deck, acoustic board, white board. The panels can also supplied unfinished for site decoration.
We work with architects, designers, developers, contractors and owners to select and design acoustic partition product.